Procurement Solutions for the Public Sector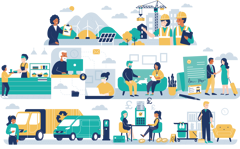 OUR PURPOSE
Procuring for you

Since 1976, NEPO has worked in partnership with North East local authorities on the strategic procurement of high value goods and services in order to deliver savings, maximise efficiencies and promote best practice.
Collaboration is at the heart of everything that NEPO does. 
Our procurement solutions are the result of extensive consultation with the public sector, suppliers and end-users, so that we deliver positive outcomes for the communities we serve.