From grass to glass: local dairy farm educates North East school children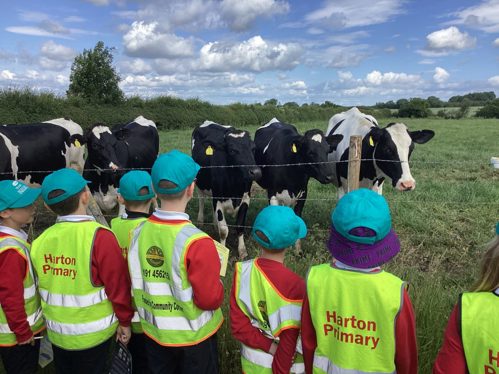 Pupils from Harton Primary School were recently given exclusive tours of Village Farm, Mordon, and Embleton Hall Dairies, Wingate, to learn how their school milk makes its way from the farm to their classroom.
The day-long educational events were organised by Paul Thompson, Director of Embleton Hall Dairies, providers of milk to local authorities across the region.
Local school children across the region were invited to dream up a design for their perfect milkshake. The competition saw many creative, colourful and inventive designs submitted from hundreds of pupils. Harton Primary School in South Shields were the lucky school chosen to visit the farm and see the dairy process from cow to carton.
Pupils began their day at Village Farm, where they were greeted by Holstein Friesian cows on a dairy-themed activity trail as they explored some of the farm's 240 acres. Children toured the working dairy farm, meeting some of the calves born only days earlier. They were shown how farmers milk their cows using digitalised, robotic milking machines
Animal Story's offered the children a chance to experience exceptional animal encounters, learning more about the natural world and sparking an interest in wildlife.
In the afternoon, the children travelled to Embleton Hall Dairies to learn all about the pasteurisation process. Groups were taken on tours of the factory to learn how milk from the cows they had seen on the farm is transformed into the milk and butter in their fridge. They saw how the milk is tested, put into cartons and packaged ready to be delivered to their school.
Paul Thompson, Director of Embleton Hall Dairies, said:
"Connecting schools with farming to help children understand where their milk comes from is extremely important. We wanted to give pupils a unique "hands on" experience of a working dairy farm and are thrilled they showed such a keen interest in farming and learning about milk.
"The children asked great questions and we hope these visits were as rewarding for them as they have been for us. Embleton Hall Dairies are proud to play a part in educating the next generation about the dairy industry and we look forward to repeating these educational experiences next year."
Miss Mullea from Harton School Primary, said:
"The children had a fantastic visit and learned so much about where our school milk comes from. They were amazed to see how the cows are milked using machines as it reminded them of the robots we used during our STEM week. It was fantastic to see so many animals and learn so much about them."
Carly Ivers, procurement coordinator, NEPO, said:

"At NEPO, we firmly believe in the power of social value and its transformative impact on our communities. Embleton Hall Dairies' commitment to education and fostering connections with local schools is a great example of this. Hosting school visits makes a massive difference in helping sow the seeds of curiosity whilst showing the importance of sustainable farming to local communities. Congratulations to the children at Harton School for imagining some delicious milkshakes."