Thank you for visiting NEPO at Procurex 2022. 

NEPO works in partnership with the public sector to develop and manage procurement solutions across high-spend areas such as energy, construction, and professional services. Over 800 public sector organisations across the UK utilise NEPO's portfolio of procurement solutions in order to access compliance, choice and value for money.
Procuring for You
NEPO's procurement solutions are the result of extensive consultation with the public sector, suppliers and end users, so that we deliver positive outcomes for the communities we serve. Our 70+ solutions are available for use by UK public bodies via a free of charge associate membership scheme.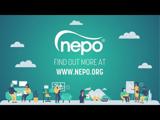 Introducing NEPO 2022
An animation summarising what NEPO does and how we support the public sector.